The Thames Venturer
For our river trips, we hire an elderly Dutch Barge. This is run by The River Thames Boat Project, a registered charity that aims to give people the chance to access the Thames. (photo – Sailing past Hampton Court.)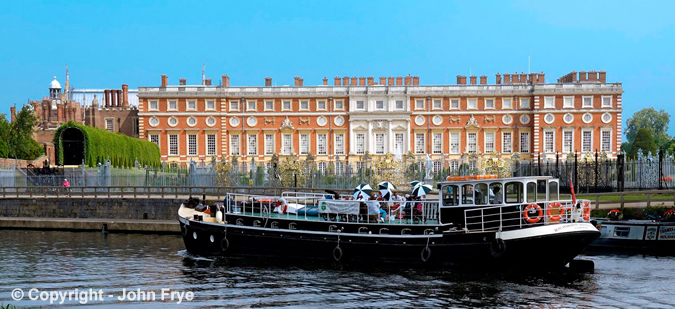 Day cruises normally start from Kingston and usually go up-river, past Hampton Court Palace to Walton or Shepperton, where we moor up for a picnic lunch. Occasionally, depending upon the tides, we go down-river to Chiswick.
The Thames Venturer was built in 1908 in Lekkerkirk, Holland. She is 26m long, with a 5m beam and a 1.2m draft. Not very much is known of the Venturer's history, as all her ship's papers were lost during World War 2. Due to some evidence of structural modifications made to her hull, it is thought that she was probably one of 2,000 vessels commandeered during WW2 for Operation Sea Lion, which was Germany's plan to invade the UK.
Her original name was De Tyd Zal't Leeren, which means "Time Will Tell". In 1957 she was registered in Rotterdam where her name was changed to Vereenigining III ("Society III"). In 1971 she was re-registered as Corry II but by 1988 her name had changed again, this time to Gerja. It was at this time that she was brought to the UK where Alan Borough, a Thames philanthropist, purchased the vessel and sold her to The River Thames Boat Project for £1.00.
In early 1990, BBC Television's "Challenge Anneka" programme was approached for help to convert the former cargo boat into a community boat. The programme-makers agreed, and the Trustees of the Boat Project appointed a design team composed of Derek Plummer (Architect), Simon Harris (Marine Engineer) and Miranda Jaggers (RTBP Project Manager).
The team had only five months in which to design the conversion and fit out the boat. It had to include a large multi-purpose saloon, sleeping accommodation and disabled access to enable the widest sections of the community to make use of the boat. Major structural steel work had to be completed before filming could start, so the original steel cargo hatches were replaced by the new upper deck, the hatch combings were raised for added head room, fresh water tanks and holding tanks were fitted, and the main companionway and handrails were built.
In October 1990 the "Challenge" itself started – three days of filming during which the saloon and galley were fitted out, the lift installed, the hull and topsides painted and finally Anneka Rice chose the new name for the boat – Richmond Venturer.
Finally, in January 2013, the name was changed to "Thames Venturer".
Click here to visit the River Thames Boat Project website.