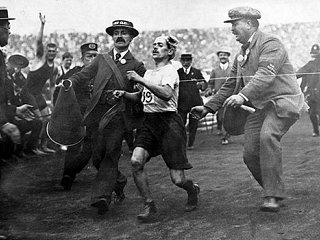 If you visit our 'Donate Now' page, you will see that Simon Mellinger (Managing Director of The Bradford Exchange) is raising funds for our Association by participating in the 2015 Brighton Marathon. That's the Good News.
The Bad News is that he tripped over his Zimmerframe and injured himself. All came to light when Simon sent an e-mail to all his sponsors as follows:
To my wise, attractive and very generous sponsors
I regret to inform you that, following a squash match last Saturday in which I strained my groin quite badly, my doctor has advised that it would not be a sensible idea to continue with my attempt to run the marathon in 3 weeks' time if I wanted to achieve my ambition of continued use of both legs twelve months from now.
Obviously this is disappointing but I am pleased to say that the race organisers have allowed me to defer my entry to the 2016 Marathon. This has several important benefits to my sponsorship team:
- Added comedy value of me being a full 365 days more decrepit when I attempt it.
- No inflationary increase in sponsorship required. You benefit from 2015 prices in 2016!
- A further 12 months of the world seeing your incredible generosity advertised on the justgiving.com website
No need for any thanks – just part of the service.
Sadly, one or two cynics (nobody on this distribution list I hasten to add) have seen this deferment as a smokescreen to hide a supposed lack of training. I find it quite unbelievable that they would think such a thing. Not because I might pull out of the marathon, which is entirely plausible, but that they would think that I wouldn't come up with something much more glamorous and heroic than a groin strain as the reason for doing it.
Anyway, my enormous thanks to you all, on behalf of LWFA, for your initial sponsorship and, now, your understanding and patience.
Best regards
Simon
We then sent him the following e-mail:
Dear Simon,
That's a great disappointment, especially as we have already prepared a news report for our website, entitled " Sponsor casts aside Zimmerframe and staggers home in 2015 Brighton Marathon" We had also prepared the photo that was to accompany the article (see attachment – Dorando Pietri (Italy) in the 1908 London Marathon – looks like Simon, anyway, and he runs in the same way).
If you will insist upon prancing around a squash court instead of leaning calmly on the bar in your local pub like anybody else, then you have only yourself to blame.
So, for another 365 days we'll have to put up with you proclaiming to all and sundry that you are training all the hours under the sun, whereas in truth the only physical training that you are doing is lifting a pint glass of beer at frequent intervals.
Kind regards,
Alan Lenton
Chairman